Fellowship of Bible Churchs (FBC) Events:



FBC WINTER RETREAT - FEBRUARY 7 & 8, 2020
(Formerly the FBC Men's Retreat. Note: this is not the Camp Tohiglo
Teen Week Winter Retreat)
The FBC Winter Retreat is designed to bring people together for a time
of fellowship and the study of God's Word. This is a good time to bring
your children and grandchildren and even young people from your
church to fellowship and learn from the Word of God. There will be
sufficient time for fellowship and, of course, delicious meals and
snacks.
EVENING SERVICE
The Friday evening service is open to the public. Invite your family and friends to join you in sitting under the ministry of the Word of God as
presented by Mr. Shahram Hadian, Mr. Tom McMahon

, and Mr. Ben Cooper

(see Bios below). A free will offering will be taken at the service.
The

Friday evening meal for non-conference guests is on a reservation-only basis

. Please call Pastor Dwight Morgan if you plan to come to the
Friday evening meal: (717)597-8127.
FOR MORE INFORMATION:
Contact Pastor Dwight Morgan 717-597-8127
or by email sdwight@juno.com
DOWLOAD FORMS HERE:
FBC WINTER RETREAT REGISTRATION FORM
FBC WINTER RETREAT FLYER
OUR SPEAKERS FOR THE RETREAT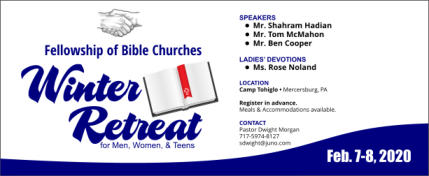 Tom McMahon is president and executive director of the Berean Call ministry, editor-in-chief and contributing writer
for The Berean Call newsletter, co-author of The Seduction of Christianity, The New Spirituality, Understand the
Times,and author of Showtime for the Sheep? Holder of a master's degree in communications, he has researched
and written numerous documentaries and scripted several feature films. His writing/producing for Christian videos
includes The Cult Explosion; The God Makers; and The NewAge: Pathway to Paradise? among many others.
Shahram Hadian is the founder of the TIL (Truth in Love) Project Ministry. He travels around America and Canada
addressing critical issues facing us as Americans, including the threat of Islam and oppressive Shari'ah law, the
growing deception of interfaith dialogue, the rise of the Islamo-Manxist coalition, and the need for courageous
leadership in the pulpit and in our churches. A Christian pastor and former Muslim, Shahram was born in Iran and
came to America to escape an oppressive Islamic regime. His unique background includes experience as a pastor,
police officer, teacher, coach, and servant leader in his community.
Ben cooper grew up in western PA on a small family dairy farm. After attending Penn State University and receiving a
bachelor's degree in Agricultural science in 1984 he worked for the MD Dept. of Agriculture for 32 years. After
retirement he has been teaching beekeeping clasies at Allegany college of MD since 2012. He graduated from the
comerstone Bible Institute in 1996. He is an award winning author of a devotionoal book on animals in the Bible
entitled All Nature Sings. He and his wife Sonia have five children and are members of the Cumberland Bible Church.
Rose Noland - Ladies' Devotional Speaker
Rose Noland is an experienced Bible teacher, speaker, and author of four books. She conducts seminars and
workshops to help women manage their emotions for God's glory. She wants to share how to experience the
abundant life through intimacy with Christ no matter life's hardships. She is a widow and founder of " He's So
Worth It" Ministies and presently is a member and ladies Bible teacher at Independent Bible Church in
Martinsburg, WV.



Friday, February 7, 2020
8:00 – 9:00 a.m.
Registration
9:00 – 9:30 a.m.
Devotions*
9:30 – 9:45 a.m.
Break
9:45 – 10:45 a.m.
Tom McMahon
10:45 - 11:00 a.m.
Break
11:00 - 12:00 noon
Shahram Hadian
12:00 - 1:00 p.m.
Lunch
1:00 - 1:15 p.m.
Break
1:15 - 2:15 p.m.
Tom McMahon
2:15 - 2:30 p.m.
Break
2:30 - 3:30 p.m.
Shahram Hadian
3:30 - 3:45 p.m.
Break
3:45 - 4:45 p.m.
Ben
4:45 - 5:30 p.m.
Break
5:30 - 6:30 p.m.
Dinner
6:30 - 7:00 p.m.
Set-up time
7:00 - 8:30 p.m.
Tom McMahon, Shahram Hadian, & Ben Cooper
(Open to the public)
8:30 - ?
Fellowship time
Note: Those not staying overnight but who wish to have breakfast either Friday or Saturday morning may do so by prior
reservation only. The cost is $3.50 each.
Saturday, February 8, 2020
8:00 - 8:45 a.m.
Breakfast
8:45 - 9:00 a.m.
Break
9:00 - 9:30 a.m.
Devotions
9:30 - 9:45 a.m.
Break
9:45 - 10:45 a.m.
Shahram Hadian
10:45 - 11:00 a.m.
Break
11:00 - 12:00 noon
Tom
12:00 - 1:30 p.m.
Lunch/Break
1:30 - 2:30 p.m.
Ben
2:30 - 2:40 p.m.
Break
2:40 - 4:00 p.m.
Tom McMahon, Shahram Hadian, & Ben Cooper
4:00 - 4:30 p.m.
Fellowship/Goodbyes